ArmsUp Motorsports Wins at Lucas Oil Raceway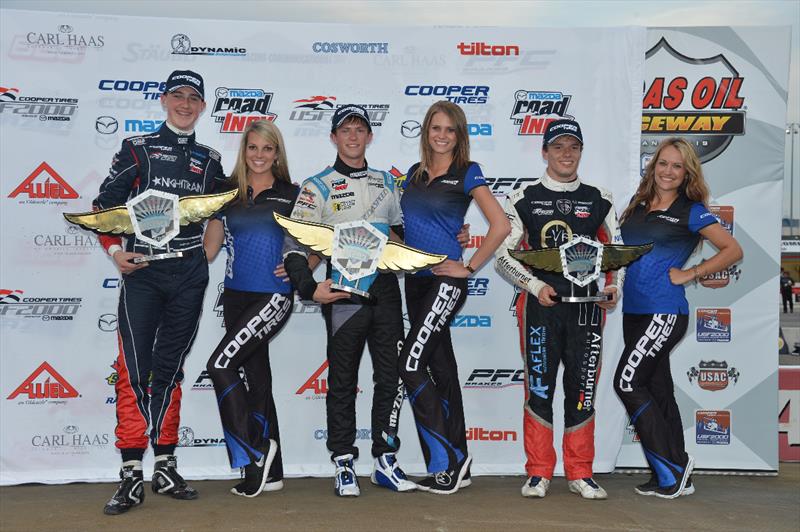 Brownsburg, IN. (May 27) – Saturday at Lucas Oil Raceway, ArmsUp Motorsports earned their first overall win in the Cooper Tires USF2000 Championship powered by Mazda. Twenty-two year old rookie Aaron Telitz started in 6th place to win his first race on an oval. The event proved to be a strong run for the Wisconsin based team, as Peter Portante raced strong to gain considerable ground from his 13th place starting position to finish 7th. An impressive pass on Jake Eidson in traffic earned Portante the RePlay XD Move of the Race Award. ArmsUp Motorsports also won the PFC Award and a customized Race Energy charger on their race winning weekend.
The event began with a day of testing for the Mazda Road to Indy series, where the team worked closely with the young drivers to develop the optimum set up for Friday's practices and Saturday's qualifying session. Both Portante and Telitz increased their speed and craft with each session, ultimately dominating the final practice before qualifying. Determined by random draw, Portante qualified first of the field in the single car qualifying session to receive a 13th place start. Each car completed two laps under green and qualified based on the average lap time. Telitz's lap times earned him a 3rd place start for the evening race.
The open laps of the race, both ArmsUp drivers were able to gain position, with Telitz advancing one spot to 5th and Portante two spots to 11th. Telitz and Clark Toppe battled side by side for 5th place for a considerable amount of time before Telitz ultimately took the position and began to pull away. From there, Telitz continued to pick off the competition, one by one until he passed Austin Cindric for the lead with over 50 laps to go. Once the pass was complete, Telitz pulled away to dominate the remaining laps of the event.
Meanwhile, Portante raced consistently in 11th, keeping the rest of the field behind him as he gained ground on the cars ahead. In lap 40 of 75, Portante made the pass for 10th, and just a few laps later, then 9th position. In the final laps of the race, the Connecticut native continued his strong drive, gaining two more positions to finish 7th on the 0.68 mile oval.
###
Gregg Borland // ArmsUp Motorsports, Team Owner
Peter did such a great job. We didn't have the best run in qualifying, but he drove a heck of a race to gain any lost positions there. As for Aaron, he really dove that car. Once he got around Toppe, a light switch came on and he drove away from the field. It was a fantastic run. This is our third full season in USF2000, and this win was a long time coming. To win in Indy makes it even better.
Aaron Telitz // #5 Rice Lake Weighing Systems // Started 6th, Finished 1st
Today was just an awesome day at Lucas Oil Raceway Park. Fastest in practice all morning, and then the afternoon practice and qualifying came up. We developed a bit of a push, so we weren't as fastest as we could have been. We qualified sixth, which was near the front. I had a decent start. I was making a move on the inside for 4th on the start, I slid up into 5th and fought back and forth with that position for a while. I got around him, then once solid into 5th place, the leaders were all in a big line. I thought to myself, 'what's the point of following them all around' so I went down to the low line, and basically just started driving around them. It was as simple as that. The guys at ArmsUp picked the perfect setup on my car to even be able to do that. Then I got out front and drove away. I'm glad to be able to bring ArmsUp their first win. That's pretty awesome.

Peter Portante // #24 Intercity Lines // Started 13th, Finished 7th
Interesting race for sure today. Pretty much nothing we could have done different. Another situation of starting from the back of the field and making our way up. We made a lot of positions, and the car got better as the session went on. A little bit disappoint but I don't think we could have done anything different. It's more momentum, and another decent finish. Once everything starts going our way, we'll be pretty solid.