ArmsUp Builds Momentum at Barber with Podium Finish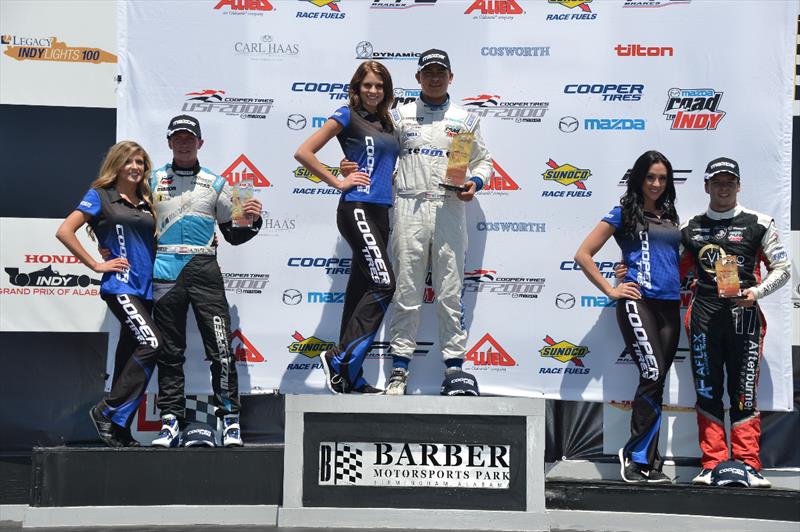 Birmingham, AL. (Apr. 27) – Saturday at Barber Motorsports Park, ArmsUp Motorsports earned their first podium finish of the 2014 Cooper Tires USF2000 Championship powered by Mazda season. Twenty-three year old Aaron Telitz from Birchwood, Wisconsin started in 4th Saturday afternoon to race clean and methodically to the podium.
The ArmsUp season got off to a difficult start last month at St. Petersburg, when both Aaron Telitz and co-driver Peter Portante of Plainville, Conn., were collected in contact and unable to continue in both races. The Wisconsin based team worked quickly to repair both cars for Rounds 3 and 4 at Barber Motorsports park. Focusing forward, the team arrived to the track with a renewed sense of vigor, finishing inside the top eight for both practice sessions. Telitz qualified the #5 ArmsUp Motorsports Race Lake Weighing Systems car in 4th for Race One, and went on to finish in 5th. He set the 4th fastest lap for the race, determining his 4th place starting position for Race 2. An alternate tire strategy for Peter Portante qualified him in 11th in the #24 ArmsUp Motorsports Intercity Lines Special/Spargo Construction car for Race 1. The early laps brought contact for Portante, forcing him to pit for a new wing. He rejoined the field in 19th and raced strong and consistent, ultimately finished 13th. His fastest lap of the race earned him a 5th place starting position for Race 2.
Starting 4th and 5th, both ArmsUp Motorsports drivers had a clean start, with Telitz making an early race pass for third on Victor Frazoni. All race long, Portante held a solid defense of the 5th position, while still pushing closer to 4th, closing the gap with each lap. In the final laps, he was passed, ultimately finishing in 6th. In lap 14 of 18, Telitz made the pass for second place, which he held to the checker flag, earning his first USF2000 podium of his rookie season.
"Both of the drivers did an excellent job," said ArmsUp Motorsports owner Gregg Borland. "All week long, Aaron and Peter really pushed themselves on track and worked with our engineering team to make sure we had the cars tuned in. The team did a great job preparing the cars, and we've got some solid momentum to take to Indianapolis."
The next round of the Cooper Tires USF2000 Championship powered by Mazda takes place at the Indianapolis Motor Speedway road course May 9-10.
-End –
//Quotes
Aaron Telitz, #5
"Early in the race, I was just testing the waters, seeing if anyone would make a mistake. I felt a lot quicker the whole way around the circuit. It's kind of hard to pass here at Barber Motorsports Park, so you wait for the guy in front to make a mistake. On the lap I made the pass, he ran wide at turn two, so I got a run into 5, and he was defending. I knew I was faster and had to make a move, we ended up touching into the apex, but it wasn't bad. St Pete was a bit of a disaster for me. But the guys at arms up got my car back together perfect, and it's been super fast all weekend. I can't thank them enough. It's more fun to drive here but I felt like to race here, it's harder to just race and make passes. For example in St. Pete, you have multiple hard brake zones where you can out break other cars. St Pete was a little intimating. But here's it's more open."
Peter Portante, #24
We finished P6, which was okay. It's a lot better than what we've done so far this season, because we've had some pretty terrible luck. Really proud of my performance and the team's work. Our tire situation after qualifying left us in the not best area of performance for race two. We did the most we could and we're looking strong for the Indianapolis Grand Prix.
About ArmsUp Motorsports 
Based in Sheboygan Falls, WI., ArmsUp Motorsports was established in 1995 by twenty year lead instructor for Skip Barber Racing School, Gregg Borland. It has since then grown to be a leading team in the world of motorsports. ArmsUp Motorsports is a full service prep facility with a team of highly experienced mechanics, driving coaches, and engineers readily available to assist in the success of each driver. The team specializes in Pro F2000, Formula Continental, Formula Atlantic, and Vintage Car racing. For more information please visit the official ArmsUp website at www.ArmsUpMotorsports.com.